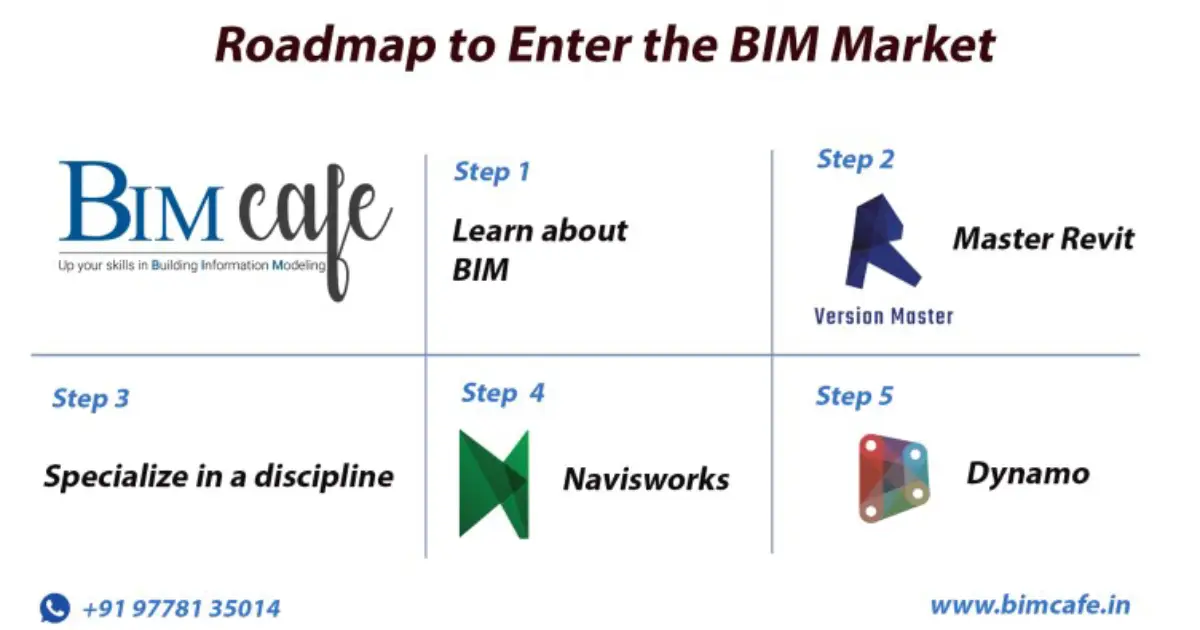 Are you interested in entering the BIM market?
There are several key steps you need to take to start on this journey successfully. Let's explore the roadmap to help you navigate the world of BIM effectively.
Step 1 Learn about BIM:
First and foremost, get familiar with the Building Information Modelling (BIM) concept and learn about its advantages. Conduct a simple Google search to grasp the foundations and understand why BIM is widely used in the industry.
Step 2 Master Revit:
Invest time in learning Revit, essential software in the BIM realm. To understand BIM workflows effectively, one needs to have a solid understanding of the modeling aspects within Revit.
Step 3 Specialize in a Discipline:
Once you have a general understanding of Revit, consider specializing in a specific discipline. Acquire expertise in your chosen discipline within the BIM context, or learn how to coordinate multiple disciplines using Revit.
If you desire to be a BIM coordinator, you have to learn Navisworks. This program will help you understand the concept of collaboration and data integration, enabling you to ensure successful communication among project stakeholders.
Step 5 Embrace Dynamo:
Learning Dynamo is extremely valuable regardless of whether you become a BIM modeler or coordinator. Dynamo enables modeling activities and coordination procedures to be automated, saving time and maintaining precision.
These stages provide a general road map for entering the BIM software field.
Certainly! If you're interested in learning more about BIM Cafe & Professional courses, you can contact the BIM Cafe team for further information. You can reach them through the following contact details:
Email: info@bimcafe.in
Phone: +91 97781 35014, +91 90721 35014
Social Medias:https://www.instagram.com/bimcafe/, https://shorturl.at/FGO47
BIM Cafe offers comprehensive training on Building Information Modeling, covering both the fundamentals (basic) and advanced (professional) aspects of the subject. They can provide you with detailed course information, curriculum, duration, fees, and any other specific inquiries you may have.
Feel free to reach out to them via email or phone, and they will be able to assist you further with your BIM training needs.

Roadmap to Enter the BIM Market! 🏗️🌍 Dear Network, we are thrilled to announce the release of our latest newsletter, focusing on the essential roadmap to enter the BIM (Building Information Modeling) market. In this edition, we delve into the fascinating world of BIM and provide valuable insights and strategies for individuals and businesses seeking to tap into this booming industry.